Unlike other books on gender equality in the workplace, Disrupters: Success Strategies from Women Who Break the Mold, doesn't focus on changing policies or legislation to fix the modern workplace. Disrupters focuses on what women can do now to make an impact. Dr. Patti Fletcher adopts a daring, solution-focused approach that showcases women who are breaking the glass ceiling without waiting.
Disrupters is a book for women who are ready and willing to change the world of work now, rather than later.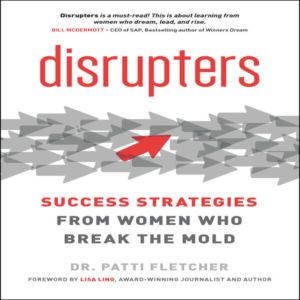 What is Disrupters About?
As Dr. Patti Fletcher shares, the full potential of women in the workplace has not been realized. Despite all of the policies, speeches, conferences and op-ed pieces, women are still not even close to being equal to their male counterparts in the workplace. This inequality shows up in the way we talk about women in the workplace, the way we pay them, and the way women communicate with others while at work. It affects almost every aspect of work — and at every level.
Breaking free of these limitations involves becoming a disrupter. If women can't reach their full potential by playing by the rules, it's time to break them.
To showcase how disruption looks, the book shares the story of women who didn't follow the traditional path to success. The women in Fletcher's book didn't just work their way up the corporate ladder. They went sideways. They created their own career ladders. They jumped from one career ladder to another. Whenever the women featured in Disrupters faced an obstacle, they found a way around or through the obstacle using what they had.
These women achieved their success, their way.
Click here to read the rest of the book review written by Charles Franklin over at Small Business Trends and click here to buy the book